Welcome to Sunday Swag! I absolutely love swag. I think it's the perfect thing to collect. You can have a whole bunch and it doesn't take up a lot of room. One day it occurred to me that a lot of people might have the same feelings about swag as I do. That's when the idea of a Sunday Swag feature came to me. I could both show off my love of swag and give some away! Plus, it's a great way of spreading the word about all the fabulous authors out there!
Milly Taiden was born in the prettiest part of the Caribbean known as the Dominican Republic. She grew up between New York, Florida and Massachusetts. Currently, she resides in New York City with her husband, bossy young son and their little dog Speedy.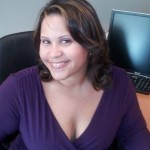 She began writing when she learned to put words together and her first book consisted of two homeless dogs living in a park for her second grade English class. She didn't win a prize, but she acquired a love for writing that never went away.
When she's not working full-time, texting with her best friend Heidi in England, chastising her son for pulling the dog's ears, shopping with her sister Jewel or watching scary movies with her husband, she can be found writing on her laptop. She's addicted to shoes, chocolate, Dunkin Donuts coffee and all Jimmy Thomas covers.
A major reader when she can get her hands on a good book, she loves reading all Mina Carter, Cynthia Eden, Cynthia Sax, Dianne Duvall and Laurann Dohner among others.
For this week's Sunday Swag giveaway, Milly has kindly offered 3 totes to celebrate the release of her debut,
Sharp Change
.
This giveaway will have 3 winners and is open to US RESIDENTS only. Just fill out the form below. Good Luck!
a Rafflecopter giveaway